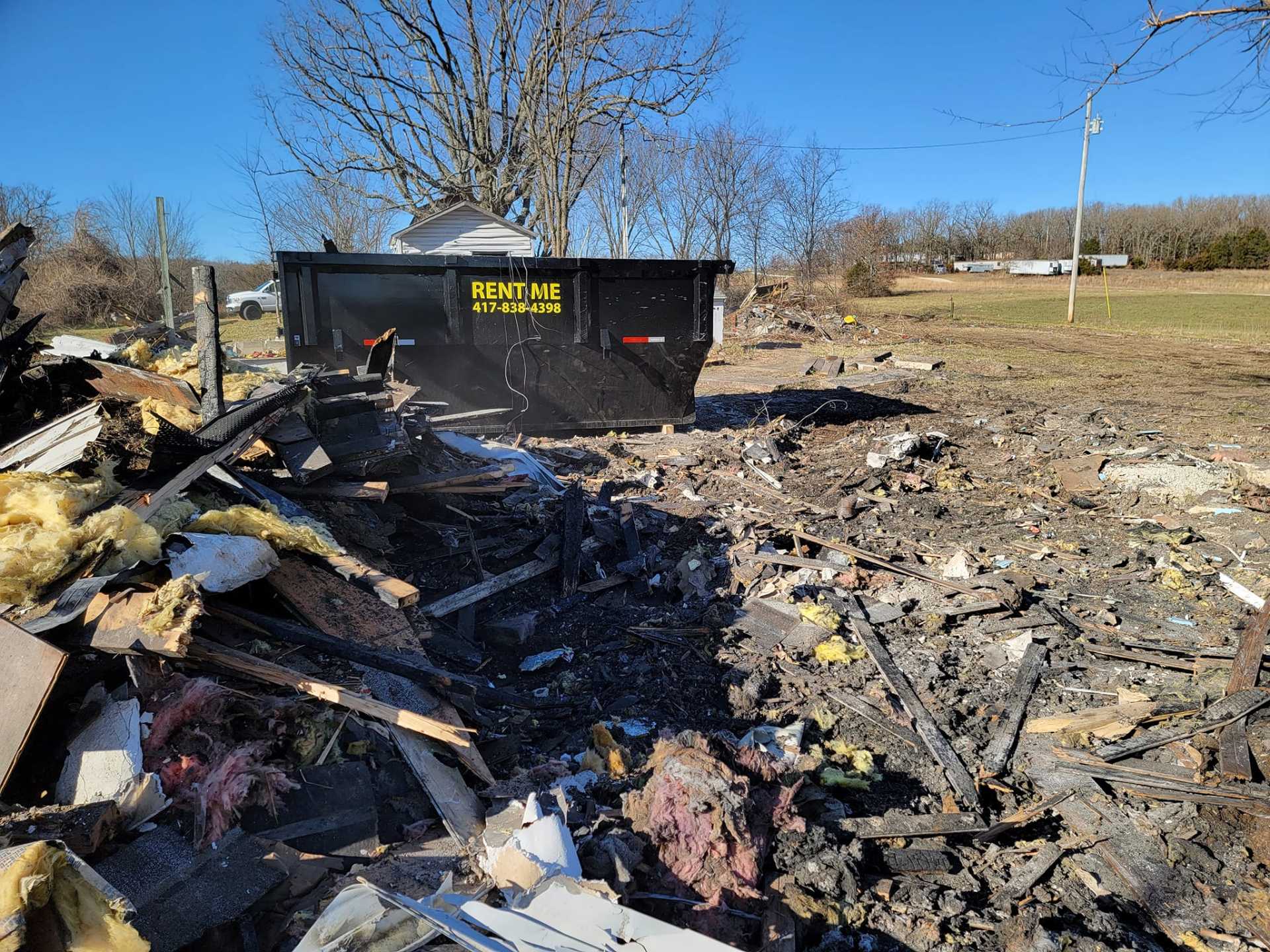 It's no fun getting rid of trash and junk. Time-consuming, messy, and not your specialty, is it?
You wonder what kind of junk removal company you should be calling. The answer is simple — we are the best Springfield, Missouri, junk removal company to get in touch with. Roll Off Express LLC is fully insured, licensed, and ready to help you! We are affordable, reliable, and courteous. So don't think twice — just call us as soon as you experience any junk-related issues.
It is the process of removing junk from your property. A junk is unwanted, broken, or unused items that are no longer wanted. Clutter, trash, and other discarded items are considered junk. In most cases, this stuff can be taken away, and you will never need to see it again.
When you have too much to handle alone, it may be time for professional help. Professional junk removal companies like Roll OFF Express LLC are the best option in Springfield, MO, for many people. You can find a company that targets the specific needs of your project and allows you to get rid of everything without lifting a finger.
What is included in junk removal services?
Simply said, junk removal services remove your rubbish. Junk movers will remove your heavy bags of clothing, trash, and other rubbish.
Call a trash removal service if you have trash to dispose of but lack the means to carry it or the time to deal with it. Before making an appointment to carry away the unwanted items, most organizations will send an expert to evaluate the debris and issue a quote. Others complete this procedure in one day. Depending on your time constraints, select a company.
What Are the Various Types of Junk Removal Springfield, Missouri?
You have two options if you employ a junk removal service to transport away your unwanted items: truck hauling or dumpster rental.
Truck Hauling
If you select this service, junk haulers will employ a vehicle with a dumpster on the bed to remove your trash. After loading your trash onto the truck and into the dumpster, they will transport and dispose of it for you. Truck hauling junk removal services make it simple to dispose of junk, making them ideal for projects where all undesirable goods have already been piled or packed up after restoration.
Dumpster Rental
Most of the job will be on your shoulders if you lease a dumpster. Positively, you will be free to work at your personal pace.
Your junk removal company will supply a container and give you one week to load it. If you need more time, most companies offer longer rental periods (e.g., if you need a dumpster throughout a project). When you're done, use the dumpsters, and the company will come back to collect and carry it.
If you wish to use the trash to preserve your driveway or for landscaping, you should check with the city first. Concrete disposal is restricted or prohibited in some industries.
Additionally, some businesses charge extra costs for dumpsters held for longer periods of time. There are frequently further restrictions on weight and overage fees if these limits are violated.
What Items do junk removal services accept?
Companies that remove junk accept a variety of products. The specifics will frequently vary from business to business. What you may often anticipate most rubbish removal businesses to clean includes the following typical examples:
Appliances




discarded vehicles




Trash in general




Trash in general




Kitchenware




Waste



What Does Junk Removal Not Take?
Although it may vary from business to business, many removal agencies won't take the following types of items:
Gasoline




domestic cleaners




Oils




Paint and paint cans




Things covered in bugs




toxic waste



While the causes vary from firm to company, they frequently include concerns for the workers' health and an inability to dispose of things properly.
Asking the business whether they have a list of things they won't accept is the best action in this situation. If they cannot manage the goods for you, they can suggest a supplier who can.
How much do junk removal services usually cost?
The average cost of junk removal is $225; charges for small amounts of junk can be as low as $100 and as high as $600 for a full truckload. Whether you use a vehicle for hauling or rent a dumpster will ultimately determine the cost.
A small dumpster up to 10 yards in size can be rented for between $100 and $350 each week.
Costs for large, roll-off dumpsters range from $300 to $700 a week (approximately 20 cubic yards). Costs range from $400 to $850 weekly for a 40-yard dumpster.
What factors affect the price of junk removal?
Waste Hauling Cost
The Springfield junk removal business will initially give you a quote. The fees are determined by the weight of the junk, rental periods, pick-up date, and more. It will differ from business to business. You will receive a price when you request one, and you may tailor the service to your needs.
Location
Depending on where you rent a dumpster, the cost may go up. If a transportation business has to travel a much, they typically charge more. They include the price of their work as well as the cost of fuel.
The dumpster's sizes
Dumpsters of different sizes have different price tags. If you have a lot of waste, you can rent a large dumpster rather than several small dumpsters, even though a bigger dumpster may cost more. This will enable you to hire a hauling business for less money.
Type of Trash
The cost of renting a dumpster also depends on the sort of trash. The price will be pretty minimal if your trash can be recycled. Other trash, such as roofing and construction debris, which might weigh more, can also cost more.
Cleaning Fees
Cleaning fees are extra and may not be included in the estimate given by the business. Even if you strive to remove construction waste, the area won't necessarily be spotless. However, there may be additional fees that you must pay if the professionals are required to work to clean the surroundings.
Springfield Junk Removal Company You Can Trust.
Junk removals can be an all-encompassing, physically and mentally exhausting experience. But if you know that a Springfield junk removal service will bring you one step closer to your dream home or office, then junk removal is the least of your troubles. All you need is a reliable junk hauling company behind you, and Roll Off Express will do just that. We have provided Springfield junk removal services for over ten years and have no plans to stop anytime soon. So if you call Springfield home, why don't you give us a call today?
We'll be happy to provide you with a quote and schedule the pickup when it's convenient. Contact us today at (417) 838-4398.