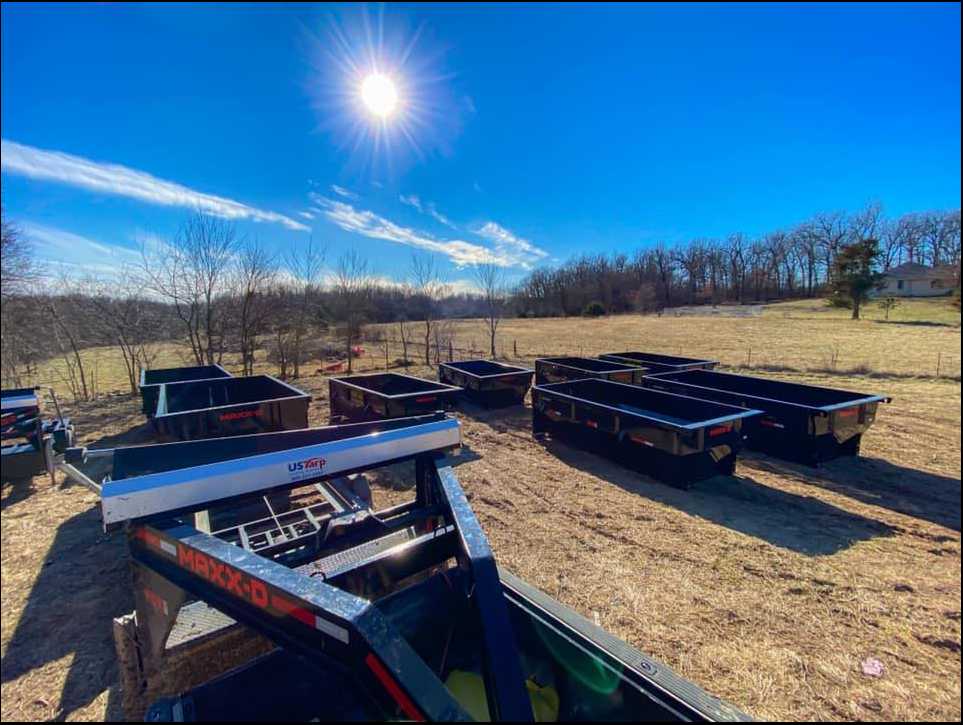 To those of you who are looking for a Springfield dumpster rental, here's a quick guide to help you with your decision.
There are a lot of dumpster rental options out there in Springfield. Thus before making a choice, it is vital to understand the factors that must be considered when choosing dumpster rental services.
Do you need a trash dumpster rental in Springfield MO? Here are signs that you might:
Are you looking to do a big renovation project in your home?
If you're doing an extensive renovation project in your home. This includes building an addition to the house or remodeling a bathroom, kitchen, or basement. (The best way to ensure you need one is if it's larger than three loads.)




If you're moving and want to get rid of all your trash at once instead of having multiple trips to the landfill. It's also helpful if you need access to a truck or cars big enough for all your stuff!




If there's construction in your neighborhood and you want to keep your property safe from debris (and angry neighbors).



Do you need to eliminate tons of trash after cleaning out your garage, attic, or basement?
A dumpster rental may be the right solution to eliminate tons of trash. Dumpsters can help remove trash quickly and easily, saving time and energy while keeping your yard clean and clutter-free. A dumpster rental is also ideal if you need to clear out an area that's full of junk—such as your garage or attic—but don't have enough space in your driveway or on-site parking area to leave a standard size dumpster there while it loads up with waste over time.
If this sounds like something that could work for you, let's take a closer look at how dumpster rentals work in Springfield, MO!
Does your business need regular cleanouts of old stock or waste materials?
If you are a business and need to dispose of large amounts of waste materials, then a dumpster rental might be the answer. A typical dumpster is usually 6 ft x 8 ft x 4 ft high, but it can be as small as 2 cubic yards or as large as 30 cubic yards. 
You can also rent open-top or closed-top dumpsters, making them ideal for storing anything from trash to old furniture and construction debris. If you're looking for an efficient way to eliminate many unwanted items without having to do it by hand, then renting a dumpster could be just what you need!
Do you have a "side business" collecting and taking junk to the dump?
Dumpster rental is an excellent way to earn extra money. You can set your own hours and work when you want, making as much or as little money as you want. If you have a truck and a license to haul trash, then all that's needed is for someone else to provide the dumpster. And it doesn't take much capital to get started, either!
A roll-off dumpster rental might be the answer if you need an efficient way to dispose of large amounts of garbage.
You've seen dumpsters. They're large, gray, and can be found around the backs of buildings or in parks. You may have seen them at shopping centers or next to construction sites—but do you know what they are? Well, here is a quick rundown.
Dumpster rental companies deliver a dumpster to your location and pick it up after you finish it. You fill your roll-off dumpster with whatever waste you have on hand (garbage, junk items, etc.) and then call the company when you need them to come back and haul away all that mess for you!
What Size Options Are There in Springfield?
If you're planning on throwing away an abnormal amount of junk, you may wonder about the different sizes of Dumpsters in Springfield Mo. You'll want to choose a size that can effectively hold all your trash while reducing the chances of paying extra for additional space. If you rent a bigger dumpster than you need, you can come back and fill it up again, but if you run out of room and have to get another one, that could get expensive.
14-YARD DUMPSTER – It's not as small as a 10-yard dumpster, but it is still tiny—ideal for people who aren't sure exactly how much space they'll need. It can hold up to 2 tons of debris, which should be enough for most household projects. This container is 4′ wide x 3′ deep x 6′ high.
20-YARD DUMPSTER – This container is a lot larger than the 14-yard one. It will hold up to 5 tons of waste—about as much as an SUV weighs—and is ideal for big residential remodeling jobs or commercial construction projects.
What Should I Do Before Renting a Dumpster?
Dumpsters are convenient, affordable, and easy to use. But before you rent one, there are a few things you'll need to consider. This guide will walk you through renting a dumpster, so your project is completed on time and within budget.
Determine what size dumpster is right for your needs.
Before you buy a dumpster, it's essential to understand the size of the dumpster you'll need for your project. Consider the following factors:
How much space do I have?




How much waste do I have?




What kind of waste do I have? (Garbage, yard debris, etc.)




How many people are using this dumpster at once?



The answers will help determine how large a container is necessary and what type would be best suited to your needs. If you need a bigger or smaller unit than we recommend based on your situation, please let us know so we can help point out potential issues before they become problems.
Know where the dumpster should go.
To make the most of your dumpster rental, you'll need to know where it should go.
Dumpsters are usually picked up and dropped off at a designated location, but if you have one delivered to your home, finding space for it could become an issue. You want to make sure that the dumpster is accessible by the truck driver or his crew members when they arrive with their load—this means that it needs enough room, so they don't have to take extra time maneuvering around obstacles like parked cars or fences.
Know how long you need to keep the dumpster rental on-site.
Renting a dumpster for your next project is essential to ensure you get the job done correctly. It can be confusing to know how long you should keep the dumpster there, though, since so many options are available. Here are some tips for figuring out how long you need to rent one:
As short or as long as needed! Most dumpster companies allow short-term rentals from three days to three months. If you don't have plans to move shortly, though—and especially if it's a large project—it might make more sense to consider renting an onsite dumpster rental service instead of asking them to come back and pick up the bin every few weeks or months.




Keep it simple! Most companies prefer not to get involved with projects that last longer than six months because they have rules about how much waste they can store before needing permission from local authorities and other regulations related to it; however, this doesn't mean that renting a roll-off container isn't worth considering even if it means having someone else haul away those materials after awhile!



Make sure you can have a dumpster in your city or community.
You'll need a dumpster and want to rent one, but how do you know if it's even legal? If you live in a community with little space for large items like dumpsters, finding out beforehand if rental services are available is significant.
Check with your local municipality first. They will be able to let you know what the rules are for renting out dumpsters in their area and whether or not they would allow it at all. It's also worth checking with your local waste management company and any recycling companies or companies that regularly deal with waste removal.
Research your local regulations regarding the placement and use of dumpsters.
Regulations and restrictions vary by location, so it's best to check with your local government. To do this, you can:
Contact the department in charge of waste management in your city, county, or state.




Ask the property manager at your apartment complex about any regulations that apply to dumpsters on their property.



You may also want to contact neighbors who live near you and ask them about any restrictions they have regarding trash disposal, particularly if you have a small lot or live in an urban area.
Be aware of additional costs that might be included in your rental agreement 
Before you rent a dumpster, you should be aware of any additional costs that might be included in your rental agreement. For example, some companies may charge an extra fee for any extra weight or if the waste has to be picked up from a location other than the original drop-off site. Other fees may include delivery/pickup fees and other waste management-related expenses.
What is the Best Dumpster Rental in Springfield MO?
There are tons of dumpster rental companies, so it's hard to know who to trust. If you're in Springfield, MO, and need to rent a dumpster for your small or large home project, you don't have to look any further than Roll Off Express LLC. We are locally based, fully insured, and offer some of the lowest prices on the market. Call us today at (417) 838-4398 and learn how friendly, fast customer service can be!
Conclusion
We hope this article helped you learn more about renting a dumpster. As you've seen, there are many factors to consider before booking your rental. This is especially true if you're looking for information on renting a dumpster in your city or community. The most important thing is that you ask questions and do your research so that when it comes time to place an order, all of your bases are covered!
If you're interested in learning more about renting a dumpster, call us today to speak with one of our friendly and knowledgeable members of the Roll Off Express LLC team. We'll help you find a dumpster rental option that is right for you and your business, and we can answer any questions you have to ensure that you're completely satisfied before, during, and after your rental. Contact us today to get started!