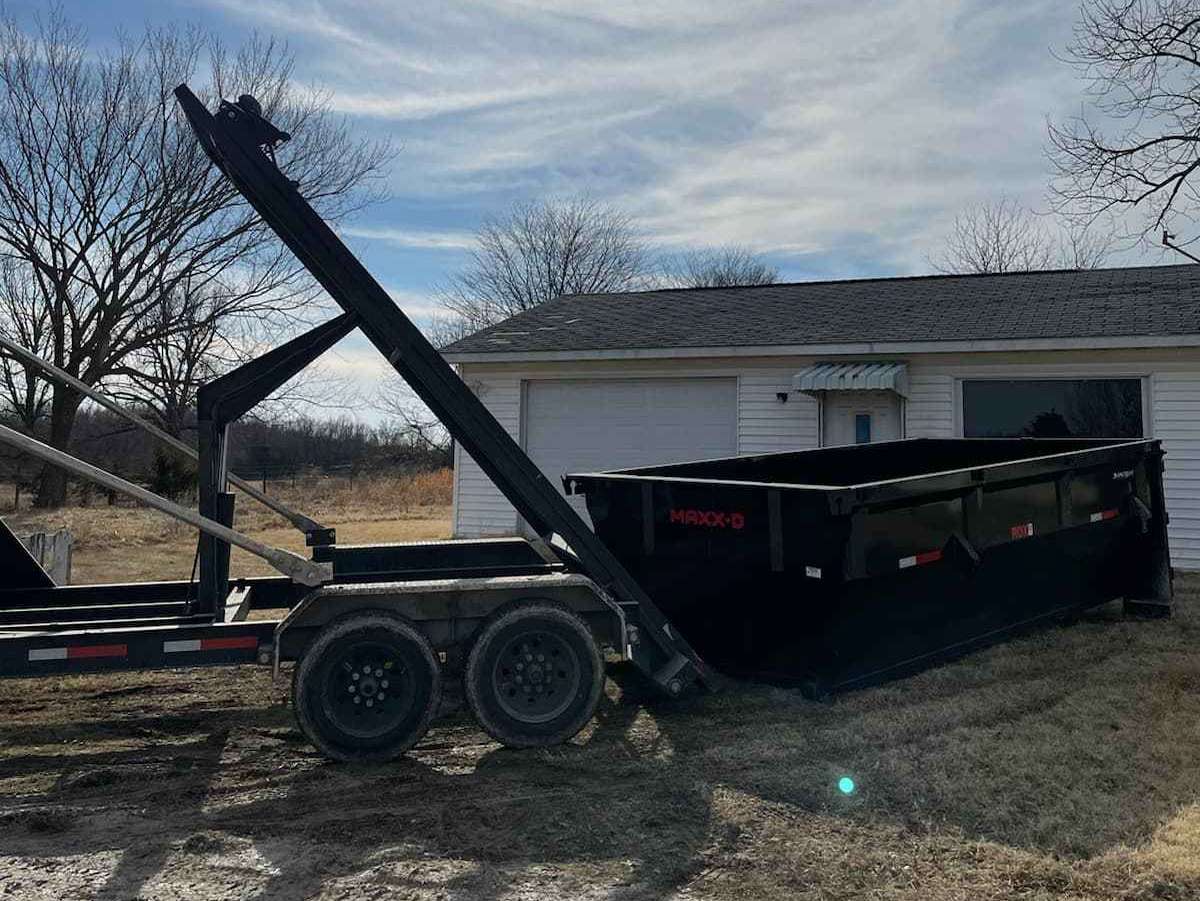 You need a dumpster. The problem? You are not sure how to get started. Dumpster rental is actually easier than you think. No matter what you plan to do, our roll-off container is ready for the challenge. 
We've got you covered, from events of all sizes to commercial and industrial projects. Each project is unique, so our friendly staff will work with you until we find the right solution for you. Contact us at (417) 838-4398 or request a quote!
One Stop Shop Dumpster Rental in Springfield, MO
Roll Off Express LLC is a locally owned and operated dumpster rental company serving Springfield, MO, and the surrounding areas. We provide full-service dumpster rentals for:
construction debris,

yard waste removal, 

post-construction clean-up, 

home renovations, and 

any other job that requires heavy-duty dumpsters.
As a family-owned business, we are committed to providing our customers with top-notch customer service, competitive pricing, and unparalleled dumpster rental service. If you're looking for a convenient one-stop shop to handle all your trash disposal needs, Roll Off Express LLC can help! Call to get started on your next project!
What Makes Us Different
We deliver and pick up the dumpsters for you (saving you time and money)

We'll work with you to find a size that's exactly right for your project (instead of pushing you into a bigger one)

You only pay for the dumpster rental when it's delivered to your site (no hidden fees or surcharges)
Roll Off Express LLC is committed to serving the Springfield, MO, area with a full selection of waste disposal services. 
What Can I Throw Away in My Springfield Dumpster?
If you live in Springfield, Missouri, and need to rent a dumpster, you might have some questions about what materials are allowed there. Here's a quick rundown of what can be placed inside your rented dumpster:
Household Junk
To answer what you can throw away in your dumpster, let's talk about "household junk." Household junk is any unwanted material in your home that doesn't belong there. It could be something old and broken or something you no longer want to use anymore.
However, if you're renting a Springfield dumpster and need to get rid of some household junk, there are many ways to do so! You can throw away all kinds of household items like:
Old toys and clothes

Old electronics (computers, TVs)
Wooden Furniture
Tables, chairs, and bookcases made of wood are typically allowed. However, you should inquire since specific sites do not take upholstered furniture like couches and recliners.
Be warned that disposing of furniture may incur an additional price depending on where you live.
Brick, Asphalt, Concrete
In general, concrete, asphalt, and bricks are not recyclable. The only way to dispose of these materials is by throwing them away in a dumpster. You can also use your Springfield dumpster for other construction waste like wood, roofing shingles, and siding. Be sure to clean out the interior of your Springfield dumpster before you rent it, so it's ready for garbage removal!
Construction & Home Improvement Debris
Almost always, waste from construction, demolition, and home upgrades may be disposed of in a construction dumpster. Broken bathroom fixtures, wall tiles, drywall, flooring, underfloor materials, old countertops, and tiles can all be included in this.
Lumber
You can throw away your old wood in the dumpster, and you should. 
If you're wondering what kinds of wood you can throw away in the dumpster, here are some examples:
Plywood (because it's made from many layers)

Lumber (because it's cut into boards)

Furniture (because it's usually made out of real trees)
Storm Debris
When it comes to storm debris, you should remove all nails and screws. You should also remove any roofing materials. Tree branches should be removed, as well as leaves and grass clippings. Broken glass is also not allowed in the dumpster. All loose debris must be placed in a trash bag before being discarded.
Shingles
Almost all service locations accept shingles in a roofing dumpster. All types of roofing debris, including underlayment, tiles, plywood, and any other demolition debris you may produce throughout your project, can be disposed of by renting a container.
How much does it cost to rent a dumpster near Springfield, MO?
The cost to hire a roll-off dumpster in Springfield ranges from $180 to $1,000. The cost to hire a dumpster in Springfield might vary depending on several factors.
Dumpster size is one of the most important things to consider. To prevent paying additional leasing fees, you must consider what type of container to purchase. You should budget $200 or more for modest sorts of bins. A larger dumpster might cost you close to $1000. Most rental providers add the cost of travel into the total charge without your knowledge. Before handing over your hard-earned money, always check with the provider to confirm the final fees.
You will probably require a dumpster rental service whether you are clearing out your house, doing a little landscape, planning a makeover, beginning a building project, or making disaster damage recovery. By renting a dumpster, you'll always have a convenient place to dispose of your extra garbage. This section will look at typical dumpster rental costs, which mostly rely on the container's size, type, and duration.
Here are some typical elements that could affect the price of the dumpster as well:
The waste's overall weight.

Waste that needs to be disposed of specifically.

Some states have additional landfill fees for particular commodities like beds or appliances.

Fees for going above the dumpster's weight restriction.

Possibility of needing local government approvals in your area.

Needing to have the dumpster rented longer than initially planned.
Do you have concerns about how much your dumpster rental will ultimately cost? Give the Roll Off Express team a call at (417) 838-4398 today to learn the exact cost of your dumpster rental so you can return to working on your project.
Your Springfield Dumpster Rental for Any Project
If you're renovating, clearing out a closet, throwing away old furniture or appliances, or just having a lot of stuff to get rid of, it can take time to figure out where to take everything. If you need dumpsters for your project, you know there are several options in Springfield. 
However, some places will charge extra fees and won't pick up the dumpster for a few days. The name to remember is Roll Off Express LLC. We'll deliver the dumpster to your home or business and pick it up when you're done—no waiting around! We have sizes that can handle any project.
Here's how it works:
Choose the size dumpster you need

Roll Off Express LLC will deliver the exact size of dumpster you want when you want it

You fill it up with whatever needs to be taken care of

When you're done, just call Roll Off Express LLC, and we'll come to pick it up
With these roll off dumpsters from Roll Off Express LLC, there are no unnecessary costs or hassles.