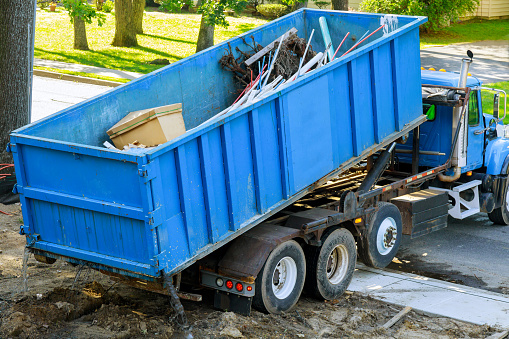 Introduction
One of the most common questions is: what is the smallest dumpster I can rent? You can imagine why this would be a question! You may feel like you have a lot of waste, but when you rent a dumpster, it might be too big for your needs. Or maybe you're renting one and don't want to pay for more room than necessary. Let's discuss the smallest dumpster to rent and if it suits your project.
The smallest size dumpster to rent is a 10-yard dumpster.
The smallest size dumpster to rent is a 10-yard dumpster. This can be the perfect size for small projects, such as:
Minor renovations, like bathroom remodeling

Cleanups after small-scale events or major household renovations (such as painting, installing new flooring and cabinets)

Small landscaping jobs, such as pulling weeds in the garden or cleaning up after a storm
Is a 10-Yard Dumpster Right for My Job?
If you have a small project, like clearing out the garage or cleaning up after a remodeling project, then a 10-yard dumpster is perfect. If your job involves removing debris and trash that won't fit in your car (even if it's an SUV), this is also the right size dumpster to rent. A 10-yard dumpster can hold up to 1/2 ton of waste—about one pickup truck full of stuff!
Plus, if you're hoping to get rid of some recyclables or other items that need special handling due to hazardous materials (i.e., paint cans), then renting a 10-yarder will allow you plenty of space for those items, so they don't end up in another landfill somewhere else!
How Big is a 10-Yard Dumpster?
A 10-yard dumpster is 8 feet wide, 7 feet tall, and 4 feet deep. This makes it ideal for small home renovations and cleanups, with extra room to spare.
A 10-yard dumpster can hold up to 12 pickup truck loads of waste and debris.
How Much Can I Throw Away in a 10 Cubic Yard Dumpster?
A 10 cubic yard dumpster is excellent for small projects and cleanups. The average weight of a 10-yard dumpster is 1,200 pounds, and the average volume is about 5.5 cubic yards. This means you can expect to fit around 2 pickup trucks' worth of debris in one!
What is the Average Rental Period for a 10-Yard Dumpster?
You can rent a 10-yard dumpster for seven to ten days. If you need it for longer than one week, you can rent it for 7 days or more. The average rental period is one-two week. Call us if you want to know more about the dumpster rental period in your area.
How Much Does a 10-Yard Dumpster Rental Cost?
The cost of a 10-yard dumpster rental is generally based on two factors: the size of your dumpster and how long you need to rent it. The average cost is $200-$800 per month. Prices vary based on where you are and what you are throwing away. Ask for a quote to determine how much a dumpster costs in your area.
Size: The bigger the dumpster, the more it costs. If you're just cleaning out a basement or garage, a 10-yarder will be plenty big enough for all your junk. If you're doing major construction work that involves clearing out old fixtures or removing multiple trees from your property over several weeks, then a 20-yarder would be better suited for these tasks (but remember that bigger isn't always better).

Weight limit: Dumpsters are billed by weight—so if yours is too heavy for its size, expect an extra fee at the end of your rental period! This can vary widely depending on what kind of materials are in your trash pile; however, most companies have standard weight limits based on their bins' dimensions and capacity. Remember to keep heavy items like concrete blocks separate from lighter ones like cardboard boxes, so they don't weigh down one type of material too much!

How long: If you need to rent a dumpster for just a few days, it will cost less than leaving it there for an entire month. Make sure that the company has drop-off and pickup times available when deciding on the length of your rental period.
What Else Should I Know About Small Dumpster Rentals?
If you'd like to keep the dumpster for an extended period of time, ask about a weekly rate. Most companies will be willing to work with you on this type of request if you can give them a good reason to keep the dumpster for an extended period.
If you think your project will fill up the dumpster quickly and want to save some money, consider requesting a shorter rental period. However, remember that this may result in additional fees if you need to rent another dumpster before your original one is full. It's always best to be realistic about how much trash will be produced during your project so that both parties are happy with how things go!
How Should I Prepare for Delivery?
Be sure that you have a clear path to the delivery location. Be sure you have enough space for the dumpster to be delivered, placed, and picked up. If there is anything in your way, call us immediately at (417) 838-4398, so we can arrange for another day of delivery and/or pickup.
Small dumpster rental near me- Contact Roll Off Express
You can call us at (417) 838-4398 to get a free dumpster quote or to schedule a delivery. We are here to help you find the best price for your needs, so don't hesitate to ask about our wide variety of dumpster sizes and unbeatable prices.
Conclusion
If you're ready to start, give Roll Off Express a call today, and we can help walk you through the rest of the process. We're here to answer any questions that may arise, and we look forward to working with you!